DAD.CEO is globally connected to incredible CEOs who we count as friends and more importantly who we respect for their dedication to their companies and families. Vasyl Myroshnychenko is one of those special DAD CEOs, who we had the great pleasure to sit down for this interview on a sunny Sunday afternoon in Kyiv, Ukraine.
DAD.CEO: You're a CEO and a committed dad, what's your secret to making it work?
Vasyl Myroshnychenko: I am not sure it actually works that smoothly. My daughter Yaroslava was born when I just turned 22. So, for me having a child at such a young age served as a major motivation in business. My daughter is almost 16 now and I also have a two-year-old son Yuriy. Apparently, my kids' needs and demands differ. So, it is important to dedicate enough time and attention to both, while I manage the business.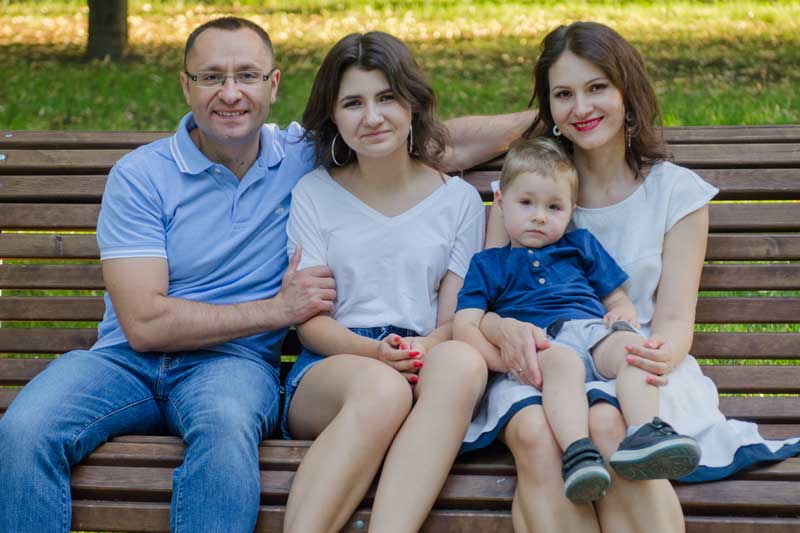 Vasyl with his daughter Yaroslava, wife Liana, and their son Yuriy
DAD.CEO: How do you 'unplug' with your kids?
Vasyl Myroshnychenko: There is one book that only I read for him. It is Axel Scheffler's "Pip and Posy: The Super Scooter". We can read it multiple times per day. Every night when I take him to bed we watch Elton John's Rocketman music video. Often by the time, it's over, he is asleep.
With my older one, we exchange stories on Instagram. Several years ago, we discovered the fun of traveling together. We call it "our quality father-daughter time". Our most memorable trip was a one-week road trip from San-Francisco to Los Angeles in the spring of last year. Lately, we've started having breakfasts out of the house to discuss important matters and doing some planning.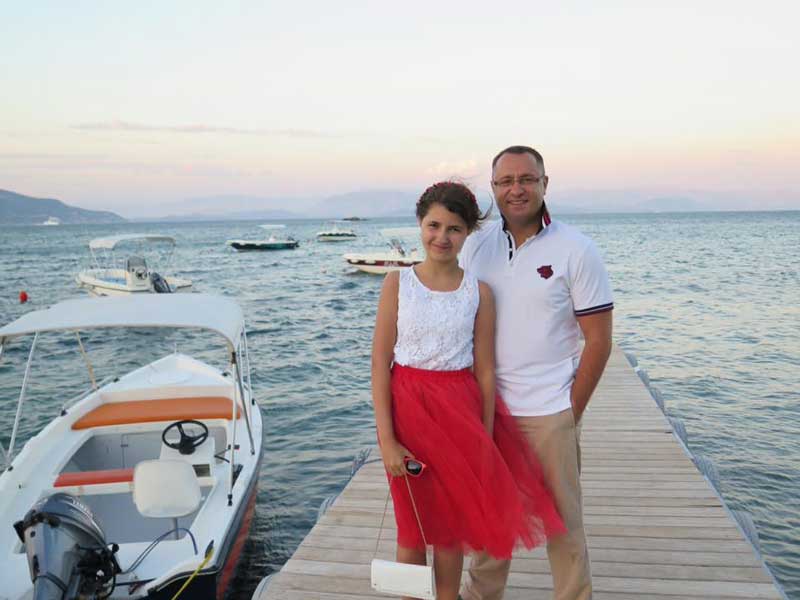 Vasyl and his daughter Yaroslava, enjoying a father-daughter trip on the West Coast of the United States
DAD.CEO: How do you believe being a parent has helped you in being a better CEO?
Vasyl Myroshnychenko: Being a parent and a CEO is a lot about communication, patience, and responsibility. Also, being a father makes you better understand the issues of other colleagues who are parents and it definitely helps with bonding as a team. As the father of a teenager, I find it helpful in my communication with the youngest colleagues in our company.
DAD.CEO: Any traditions from your father that you have continued with your children?
Vasyl Myroshnychenko: My dad used to take me to the gym to work out before our traditional Saturday sauna session. Now, I work out in the gym with my daughter and we enjoy discussing diet, healthy lifestyle, and other sports-related topics.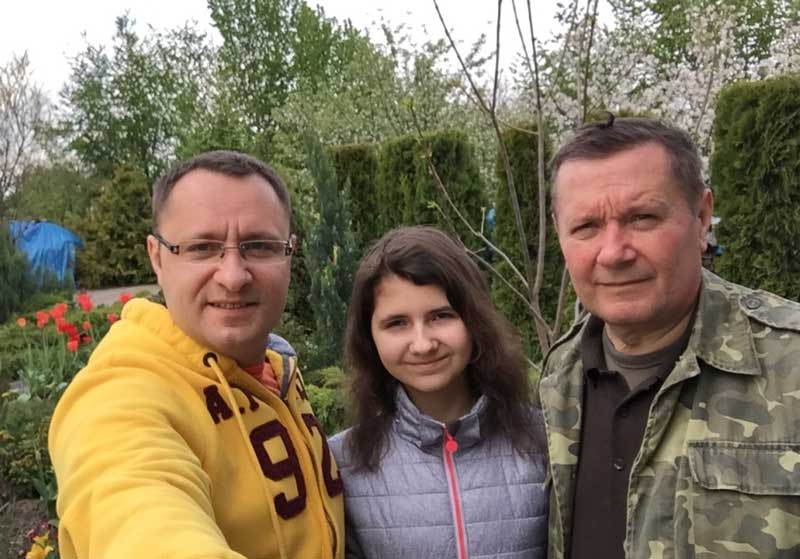 Vasyl with daughter Yaroslava and his father Volodymyr
DAD.CEO: What would be your top 5 tips for being a successful DAD.CEO?
Vasyl Myroshnychenko:
1. Experiment
2. Admit failures
3. Learn continuously
4. Add humor to all you do
5. Believe in what you do
DAD.CEO: How do you deal with work versus home conflicts?
Vasyl Myroshnychenko: It's difficult to draw parallels between work and home conflicts. The origin and nature of those conflicts differ. What I know for sure, it's best to avoid conflicts either at home or at work. And should you encounter them, they need to be dealt with maturity and without excessive emotions and feelings. Of course, it is easier said than done.
DAD.CEO: What examples should a CEO demonstrate at work that adds equal value at home to his children?
Vasyl Myroshnychenko: Leading by example is a universal rule for both work and home. Also, I believe it is demonstrating care and attention to your colleagues that matters a lot.
DAD.CEO: What is the best gift a father can give to his children?
"Love is the best gift a father can give to his children."

Vasyl Myroshnychenko
DAD.CEO: Do you feel that mothers who are CEOs have it harder at balancing their work/life duties than DAD CEOs?
Vasyl Myroshnychenko: I just asked my daughter how to answer this question. She is an ardent advocate of equality. She believes that both mothers and fathers who are CEOs face equal challenges in balancing work and life. However, I personally believe that it's still tougher for women.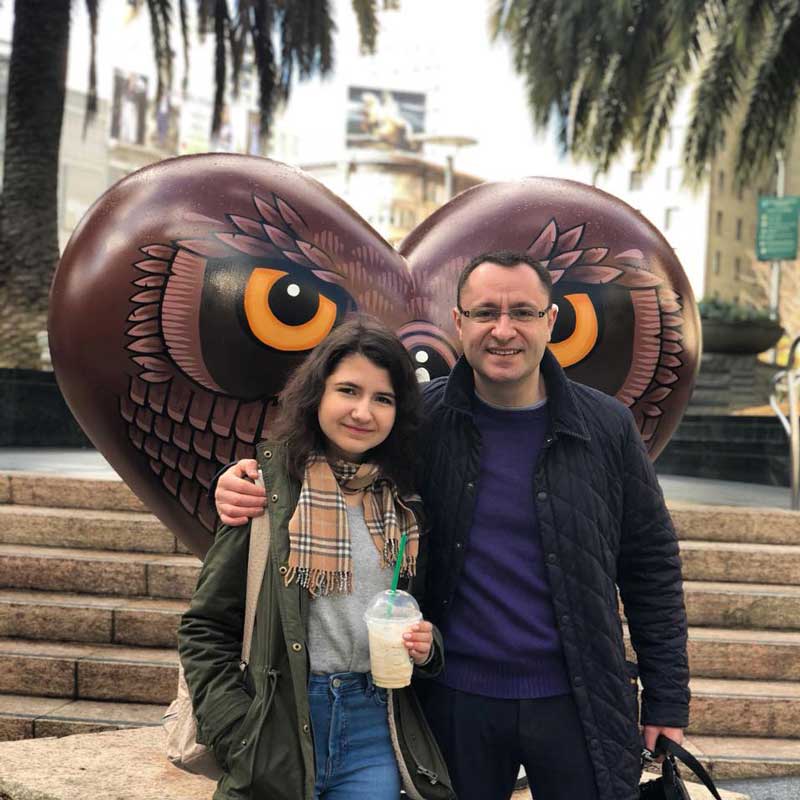 DAD.CEO: What core lesson did your father leave you with that you feel is still relevant in today's digitally connected world?
Vasyl Myroshnychenko: My 66-year old father is a medical doctor. He is still practicing neurology. He continues attending professional conferences, lectures and buying new books in his field of work. This is what I really admire about my father, and this is what I aspire to emulate. Life-long learning is a must in today's world which is changing so rapidly.
DAD.CEO: With all the responsibilities, travel, and limited time that a CEO has, is it possible to be an involved and present dad in the traditional sense, or does a CEO fall into another category?
Vasyl Myroshnychenko: I travel a lot and find it hard to remain a good father in the traditional sense. I am constantly distracted by the need to be available to my team and clients via my smart-phone. On one hand, I want to have it with me to take pictures of the time with my children. On the other hand, it often becomes a major distraction when constantly being available to deal with work issues. I am still learning how to totally unplug myself from work and fully focus on being present with my children when I am with them.
DAD.CEO: What are have your kids thought you that you feel is benefiting you as a CEO?
Vasyl Myroshnychenko: Kids teach me to be curious. I enjoy observing my son learning by discovering new things. It is a good trait for anyone. Curiosity is a driver of innovation and breakthroughs, especially for business.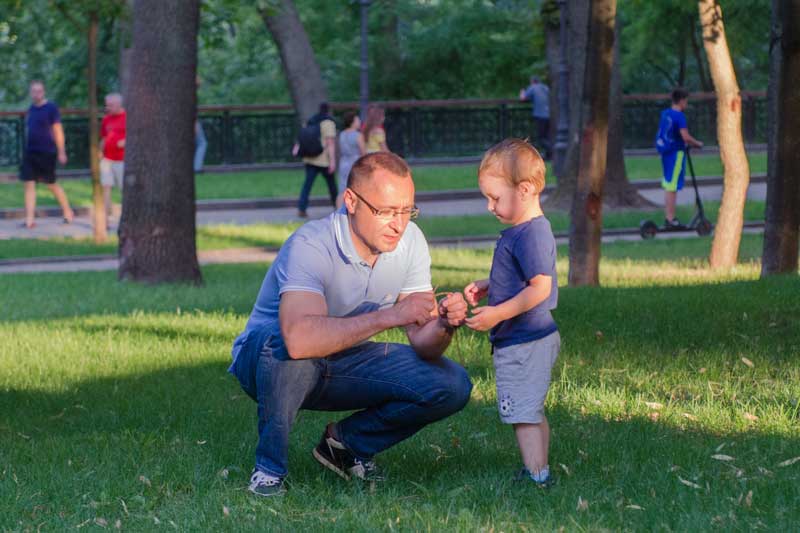 Vasyl with his son Yuriy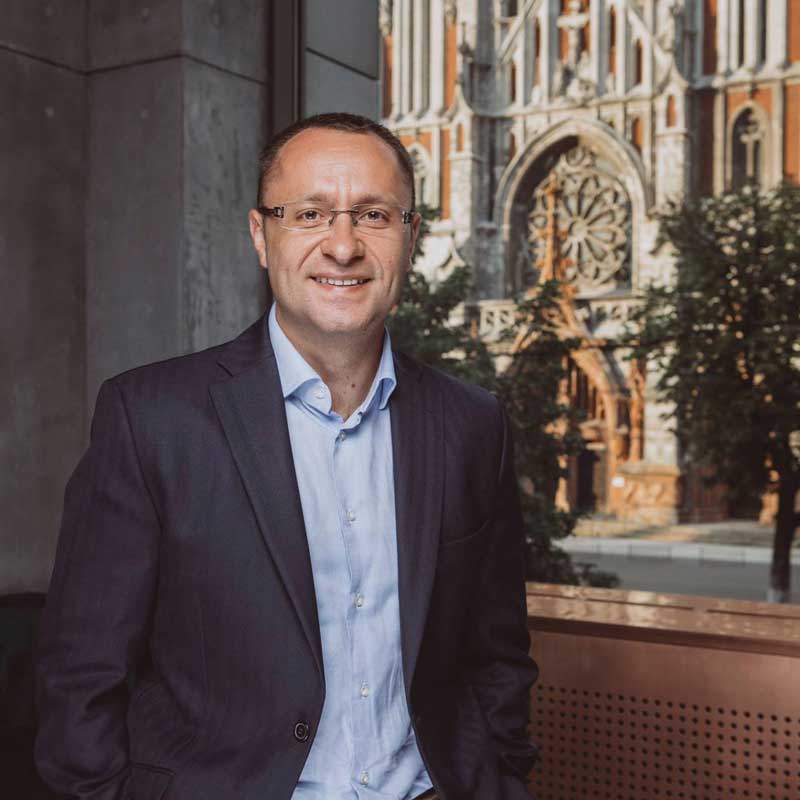 ABOUT VASYL MYROSHNYCHENKO
Vasyl Myroshnychenko is an equity Partner and rotating CEO with CFC Big Ideas, a Kyiv, Ukraine based strategic communications firm. He has 15 years of experience advising clients on corporate communications, public affairs, and special situations. Vasyl is a co-founder of Ukraine Crisis Media Center, an organization set up in early March of 2014 aimed at amplifying Ukraine's voice internationally. He is a board member of the Ukrainian-British City Club, a London-based organization fostering UK-Ukraine bilateral commercial relations.
He was a Chevening Scholar and obtained MSc in international political economy from the London School of Economics (UK). He also holds MA and BA degrees in international relations from the Institute of International Relations, Kyiv National Shevchenko University. He is a graduate of the Global Village for Future Leaders of Business and Industry program at Iacocca Institute, Lehigh University (USA), and Swedish Institute Management Program (Sweden). Recently, he completed the Marshall Memorial Fellowship, a prestigious leadership program sponsored by the German Marshall Fund of the United States.